Animation Window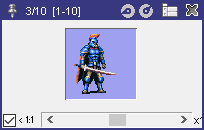 This window is mainly used as 1:1 pixel size preview and to play back an animation. But there is also a zoom slider to zoom in or out.
The title bar contains an icon for additional settings:
Fit Window
resizes the window borders so that it fits the image size as it is displayed.
Fit Canvas
changes the zoom value so that the canvas fits into the current window.
Center on Playback
will center the window to the screen when playing an animation.
Follow Magnify Window
will reposition the focused canvas area to the position where a modification is applied in the magnify window.
Show Grid
shows a visual grid if enabled (see
menu View/Zoom Grid
).
Show Tile Indices
shows tile indices if a display mode is selected (see
menu Tile Mapping/Show Tile Indices
).
Use the speed icons to change animation speed during playback.
< 1:1
allows zoom values smaller than 1:1.
Related topics
Workspace
Last modified: 29 January 2023