Create Text
Use this dialog to create a text brush based on a true type system font or a multi color
bitmap font
. A text brush can be created using the corresponding tool at the
toolbox
.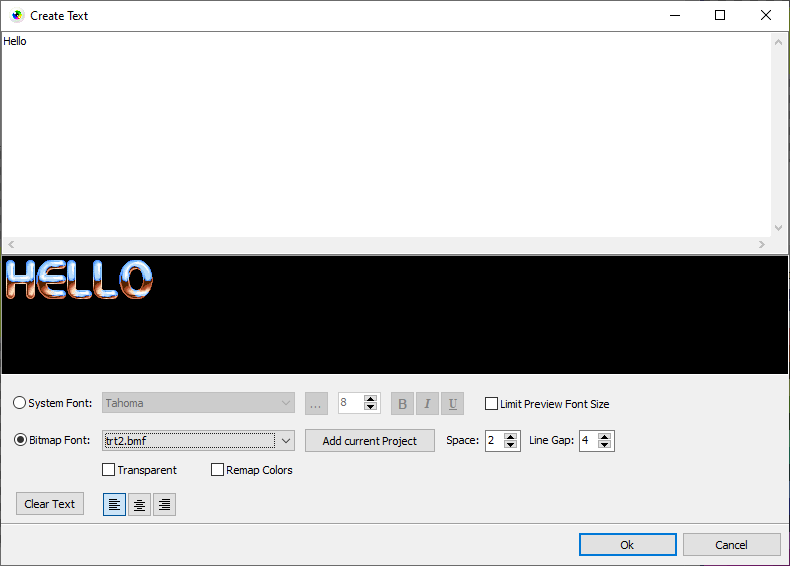 System Font
Select a system font that is to be used for the text brush. You can alter the size, style (bold, italic, underlined) and the alignment (left, center, right). You may enter a multiline text and the window can be resized to enter large text.
The brush uses the current first color as text color and the second color as transparent. A text brush can get any color from the color palette.
A text brush is single colored by default so that a color change will directly change the text color.
Limit Preview Font Size
will not gow below a font size of 10 in the preview window to keep the text readable with very small font definitions.
Bitmap Font
A bitmap font contains all letters made up of a fixed size. It can not be scaled. The width of a letter may differ.
The
Space
character size must be defined separately as well as the
Line Gap
.
You can easily
create your own bitmap fonts
as a simple bitmap.
All projects that are currently open and are of type "bitmap font" are automatically listed in the fonts selection box. You can also use
Add current Project
to add an open project to the list of bitmap fonts that is not a bitmap font project yet but a loaded image file. It will turn this project silently into the "bitmap font" project type and adds it to the fonts selection box.
Because bitmap fonts have their own colors you must ensure that these colors also appear in the color palette of your image. You can for example import the brush colors after creating the text (see menu "Colors'). Consider using
Auto remap
so that the created brush is automatically remapped to the image color palette or do the remap manually if needed.
Use the
Transparent
option to display a transparency pattern as background instead of black.
Related topics
Bitmap Fonts
Toolbox
Last modified: 29 January 2023